Las Ventas a beautifull building from the 20th century.
Madrid Las Ventas bullring is the biggest in Spain and the 3rd in the world (after Mexico and Venezuela). I was pretty impress the first time I visited it, I didn't thought it was that big. Even if you don't like bullfighting, the building is wonderful and the arenas worth to been seen.
The bullring can hold more than 23.000 spectators and often there are rock concerts.
There is a museum inside with all the history of Spanish bullfighting.
In case you are interested to go to see a bullfight in Las Ventas, the big season is in May and is call the Feria de San Isidro. You can buy online tickets here. The ticket price, depends on the bullfight and the placement (if you are sting at the sun), but you can find, if is not too late around 25€. The official range prices goes from 10€ to 150€, I said the official ones because there are a lot of people that buy tickets to sell them later much more expensive.
if you are interested here after you will find a picture with the bullfights for the Feria de San Isidro 2017.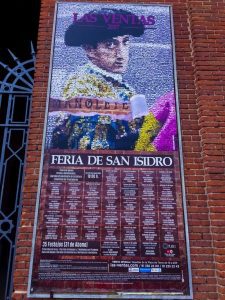 In case you want to go by car or in taxi the address is Alcala street, 237 Madrid.
There are buses that take you to the bullring, the number are (12, 21, 38, 53, 106, 110 and 146)
The subway also have a station, is call Ventas (Line 2, the red one)
If you just want to visit the bullring, here after you will find the price:
Standard ticket for adults, 9,90€
Children from 5 to 12 years old, 5,90€
Children under 5 years old are free.
There is also the possibility to do a tour in Las Ventas with a private guide; the price depends on the number person on the group. Here you will find the link to get the information and do the reservation.
Madrid, ES

36°F

clear sky
Day

Cond.

Temp.
Wind
Humidity

Pressure

Pres.

fri

jan 21

44/38°F
5 m/s, NE
50%
769.57 mmHg

sat

jan 22

45/42°F
4 m/s, NE
53%
772.57 mmHg

sun

jan 23

46/43°F
2 m/s, NE
59%
770.32 mmHg

mon

jan 24

46/43°F
2 m/s, ENE
57%
771.82 mmHg

tue

jan 25

46/44°F
3 m/s, E
55%
775.57 mmHg